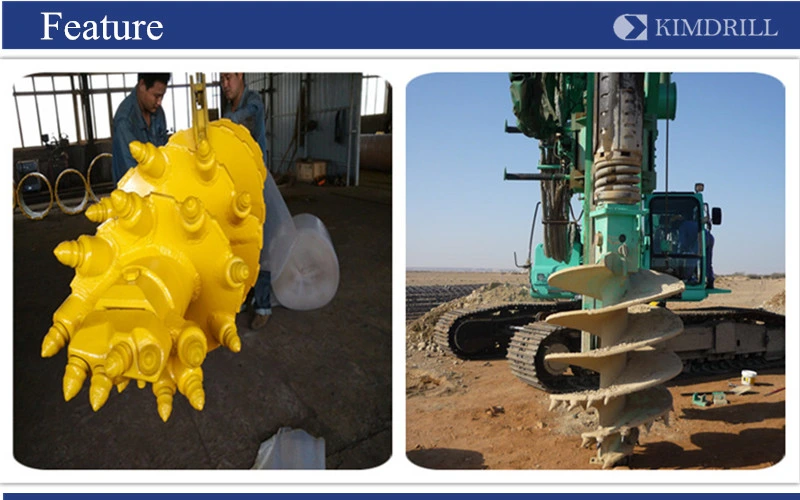 Specification of rock drilling auger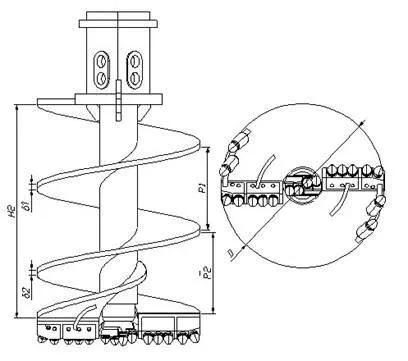 Technical Data of rock drilling auger
| | | | | | | |
| --- | --- | --- | --- | --- | --- | --- |
| Specification (mm) | Length (mm) | Pitch P1/P2(mm) | Thickness δ1(mm) | Thickness δ2(mm) | Teeth number | Weight (kg) |
| φ600 | 1350 | 400/500 | 20 | 30 | 6 | 615 |
| φ800 | 1350 | 500/600 | 20 | 30 | 9 | 854 |
| φ1000 | 1350 | 500/600 | 20 | 30 | 10 | 1080 |
| φ1200 | 1350 | 500/600 | 30 | 30 | 12 | 1354 |
| φ1500 | 1350 | 500/600 | 30 | 30 | 14 | 2062 |
| φ1800 | 1350 | 500/600 | 30 | 30 | 20 | 2783 |
| φ2000 | 1350 | 500/600 | 30 | 30 | 23 | 3347 |
| φ2200 | 1350 | 500/600 | 30 | 30 | 25 | 3940 |
| φ2500 | 1350 | 500/600 | 30 | 30 | 29 | 4942 |
Application of rock drilling auger

Drilling in medium to weak rock and in very dense sand and gravel
You can choose rock drilling auger with
A. Single spiral or Double spiral
B. Single cut or Double cut
C. Cylindrical type or Conical type

Drilling Diameter: 400mm-2500mm

Kelly box type: Sany type, Bauer type or General Type

Compatible with all rotary drilling rigs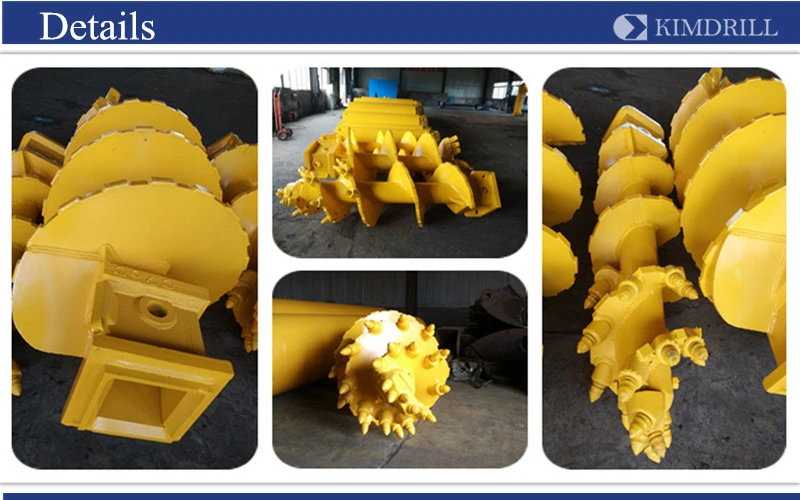 Rock Drilling Bucket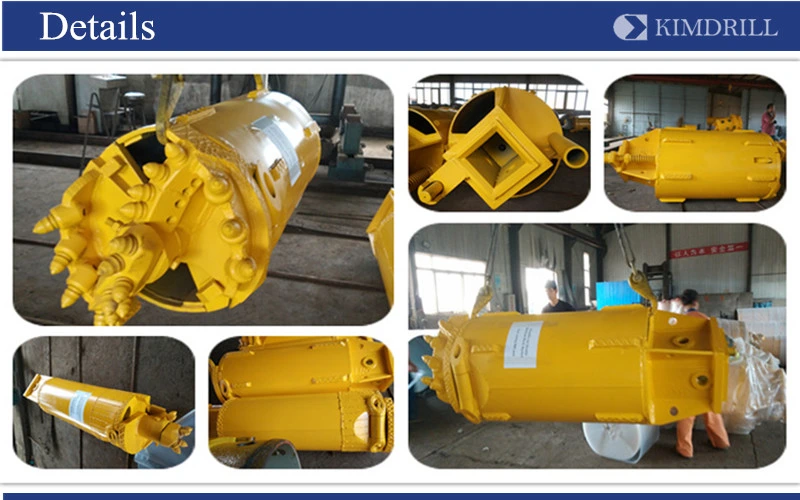 Package and Delivery
Buckets and Augers are always wrapped in foam plastics and packed in wooden case. The cargo are shipped by sea or air according to the client's request.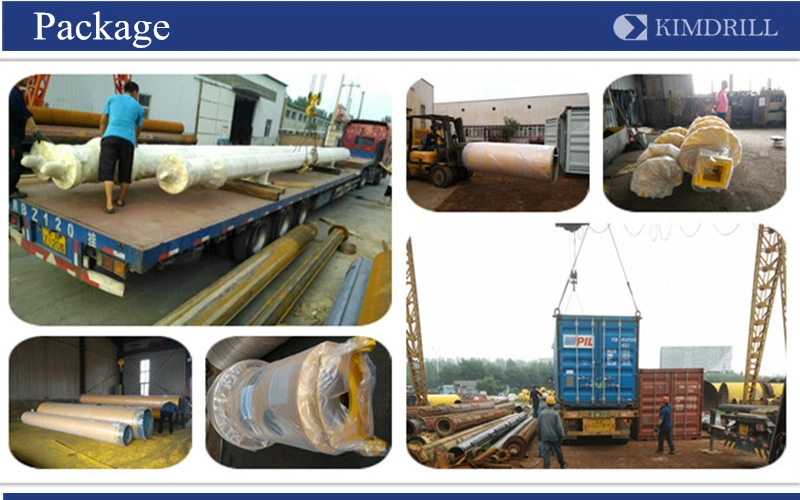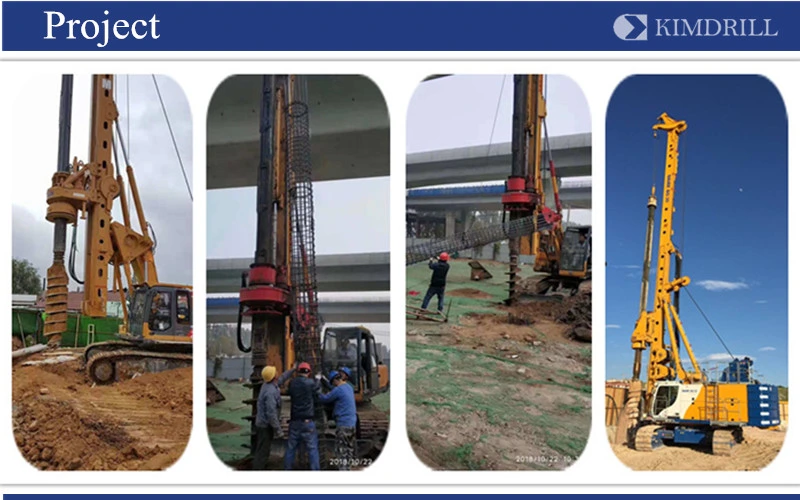 Related Prodcuts
We are offering rock driling auger, soil drilling aguer, CFA, rock driling bucket, soil drilling bucket, cleaning bucket, core barrel.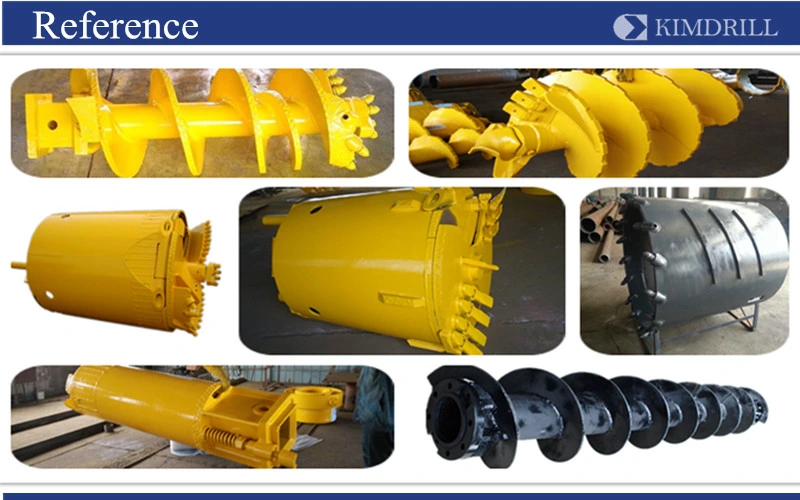 Our Factory
Kimdrill Industrial Co. Limited focuses on Deep Foundation Drilling Tools and Piling Accessories. Headquatered in Changsha, we have been engaged in offering full range of tools for deep foundation engineering since 2008.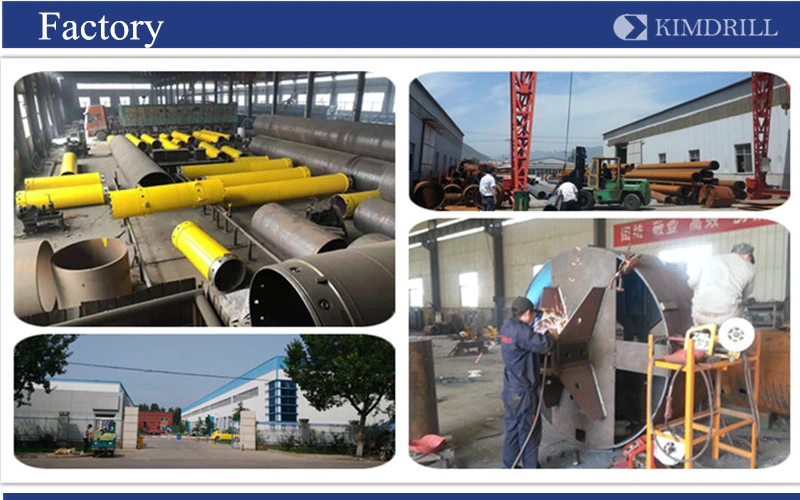 FAQ
Q: What's the product range of Kimdrill?
A: Kimdrill produces full range of tools for deep foundation engineering, such as:

drilling bucket, auger, kelly bar,

casings tools, casing oscillators

, drill bits, CFA, DTH and other pilling tools.
Q: What about the after sales service of Kimdrill?
A: Kimdrill offers good service in and after sales. All of our products are with warranty period,except some wearing parts.
Q: Could the visiting of factory be possible?




A: We warmly welcome customers to visit our factory anytime. Besides the visiting of factory, we also warmly welcome customers or the third parties to arrange inspection before delivery.



Q: How about the lead time?
A: Generally, the lead time is about 7-10 working days. The specific lead time will be offered in every quotation sheet.