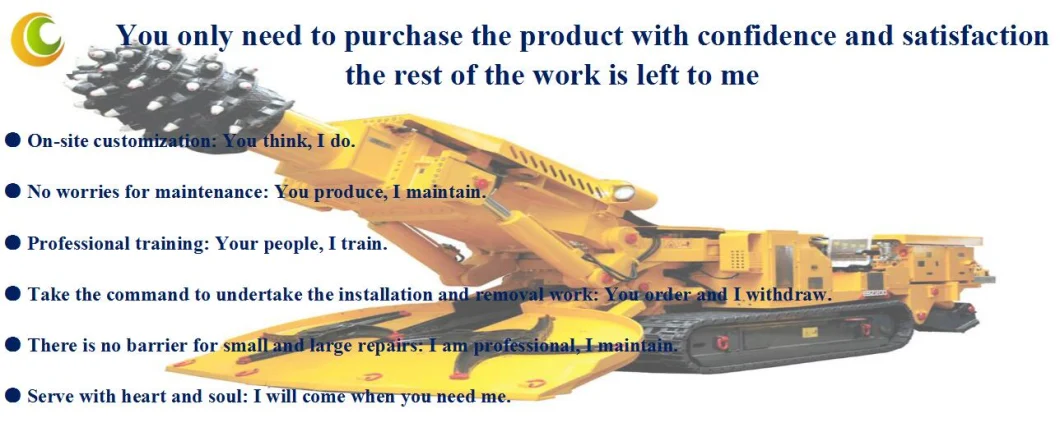 EBZ coal mine roadheader is mainly used in coal roadway, semi-coal roadway and soft rock roadway and tunnel tunneling. High configuration, safe and reliable. Through the second transport plane, it can be matched with dump truck, shuttle truck, belt conveyor, etc. to realize continuous cutting, loading and transportation.
Working mode: mainly consists of walking mechanism, working mechanism, loading mechanism and transfer mechanism. As the walking mechanism advances, the cutting head in the working mechanism breaks rocks and carries them away. It has the advantages of safety, high efficiency and good quality.
Electronic Control System
EBZ135 road header adopts explosive-proof and intrinsically safe switch box and intrinsically safe operation box which are small in volume, light in weight, flexible in operation, safe and reliable; main controllers are mounted in a sealed shell to shield electromagnetic interference effectively; working conditions are displayed on LCD screen, it adopts menu type operation interface and it is flexible and safe to set parameters; it possesses, overvoltage, motor overload, phase loss, short circuit, over-temperature and earth leakage lockout functions etc.

Hydraulic System
EBZ135 type road header adopts constant power, pressure cut off and load sensitivity control. Main hydraulic components adopt products of world famous brands.

Cutting Head
Cutting head is optimized with emulation technique; cutting tooth adopts products from Kennametal Corporation; its layout is reasonable and rock breaking capacity is strong.

Spraying System
Spraying system of EBZ135 type road header consists of internal spraying system and external spraying system. Internal spraying system is to spray behind teeth so strengthen external spraying system; design of external spraying system is reasonable; internal spraying possesses water leakage detecting function.

First Conveyor
First conveyor adopts straight structure and is connected with insertion board smoothly. The conveying operation is unobstructed.

Traveling Mechanism
Travelling driving system highly integrates motor and reduction gear with internationally advance technologies; its output torque is large and it is suitable for operation with large dip angle.
If there is limit on weight or overall height during transportation, the road header can be disassembled to transport.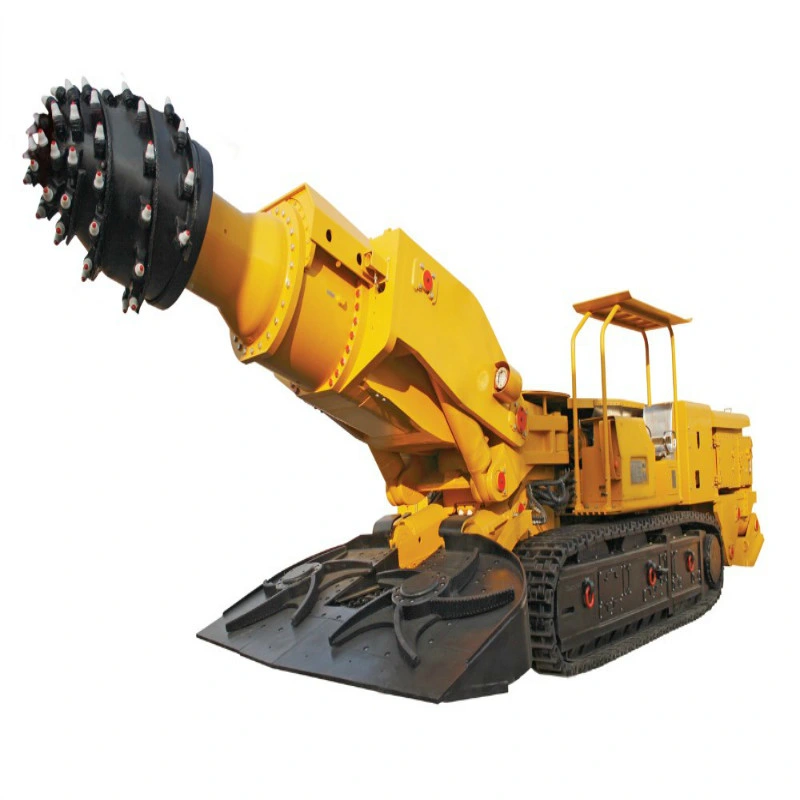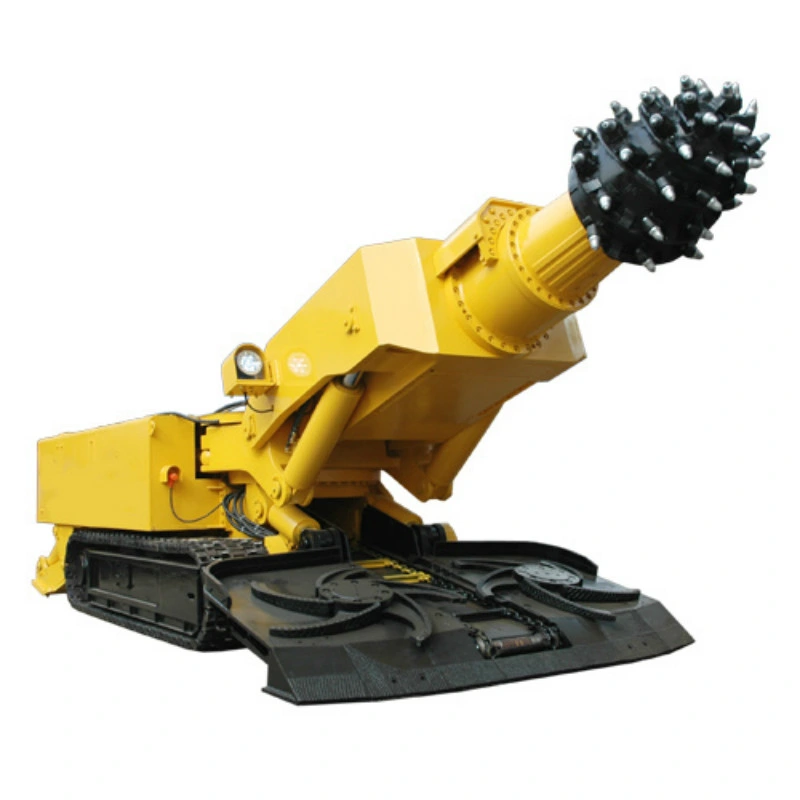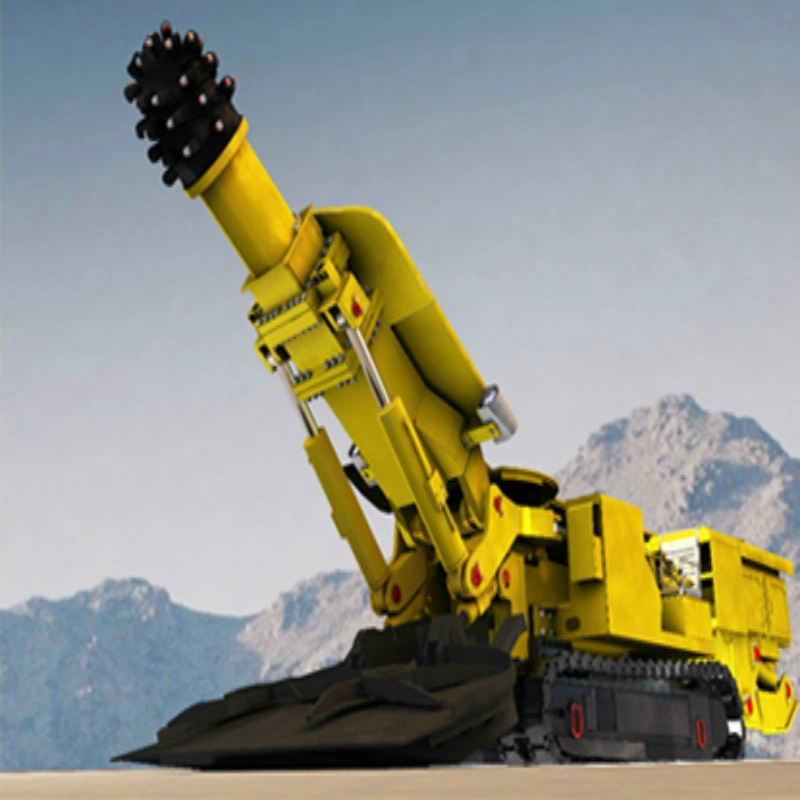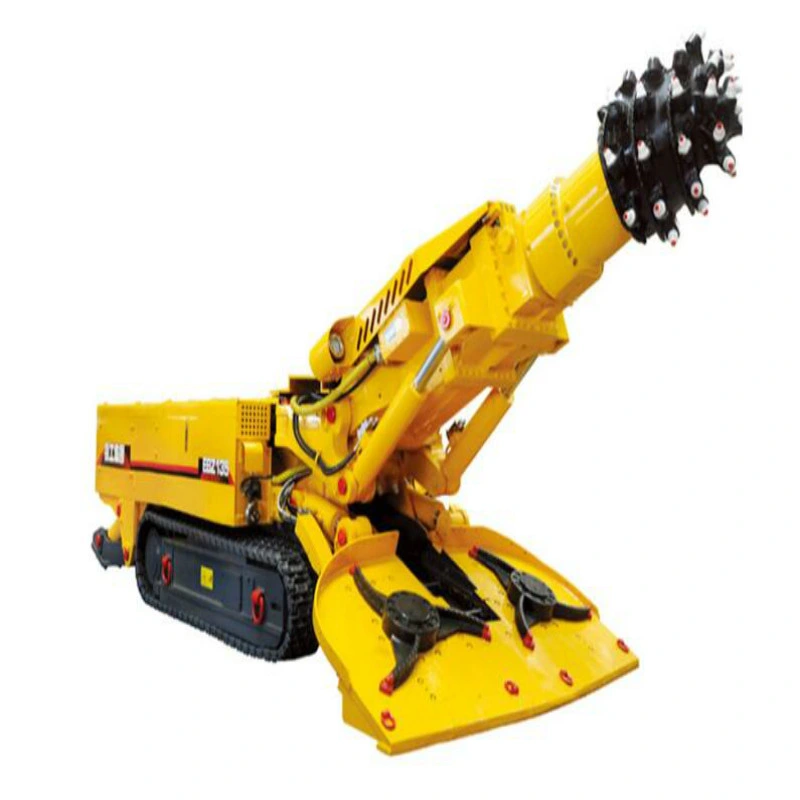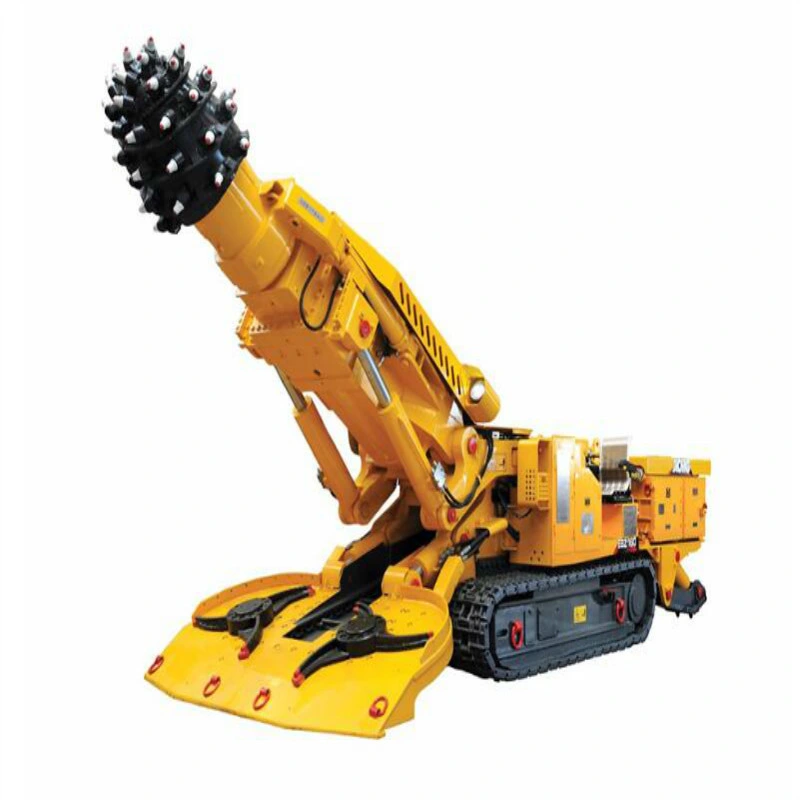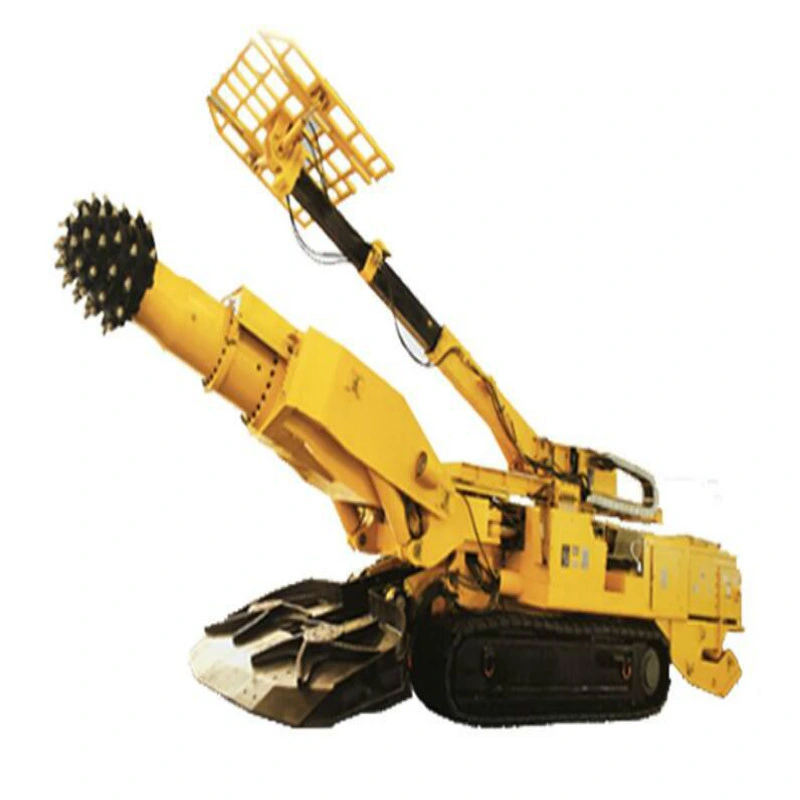 Technical Specifications

Main Technical Specification

EBZ135

Power of cutting motor

135Kw

Power of fuel pump motor

75Kw

Cutting range

Height: 4 m

Width: 5.1 m

Machine weight

38.8 T

Dimension (LxWxH)

8.92x2.8x1.53 m

Rotary speed of cutter head

44 r/min

Rotary speed of star wheel

33 r/min

Loading capacity

3.4 m³/min

Speed of 1st conveyor

40 m/min

Speed of driving unit

0~6.5m/min

Gradeability

±18º

Gantry height

420 mm

Fuel tank volume

500 L

Dinting depth

0.2m

Supply voltage

AC1140/660V
Product Advantages:
1> The cutting section has the function of internal and external spray, leakage detection and protection, the cutting motor has thermal protection, the cutting head is cone-shaped, and the tooth base is spiral. The internal spray seal adopts the world's leading automatic compensation technology with independent property rights, which completely solves the problem of unreliability of internal spray in the tunneling machine. Patent no. : ZL2006 20138210.8.

2 > The width of the plate is 2.5m and 2.8m, which are available for users to choose. The working surface of the plate adopts double-sided Angle, which is convenient for loading and cleaning. and the overall design makes the machine more efficient. The charging device is driven directly by a low-speed large torque motor with a curved three-tooth star wheel.

3> The transport plane adopts medium double chain, bilateral chain and sleeve simple roller chain transport structure, which is suitable for the transport of coal, semi-coal rock and rock materials. The base plate is linear and the transport is smooth, and the scraper transport is directly driven by two low-speed and high-torque hydraulic motors.

4> walking part adopts the highly integrated structure of reducer and hydraulic motor, with small volume and high reliability. The rising device adopts the combined structure of rising oil cylinder and adjusting plate.

5> Electrical system is controlled by programmable controller and has the functions of new comprehensive protection system module to realize protection, dynamic display of wave crystal Chinese characters, thermal protection of cutting motor, automatic system fault detection and memory.

6 > hydraulic system pump and operating valve adopt the world's most advanced unit which impoort form German, with constant power control, pressure cutting, load sensitive functions.

7 > The rear support device realizes the long span support and improves the machine stability.
OUR ADVANTAGE:

We have our own after-sale service engineers who had more than 40 years experience.

We can supply the most competitive price and the most professional service.

We have experienced foreign trade staffs who can help solve problems in time.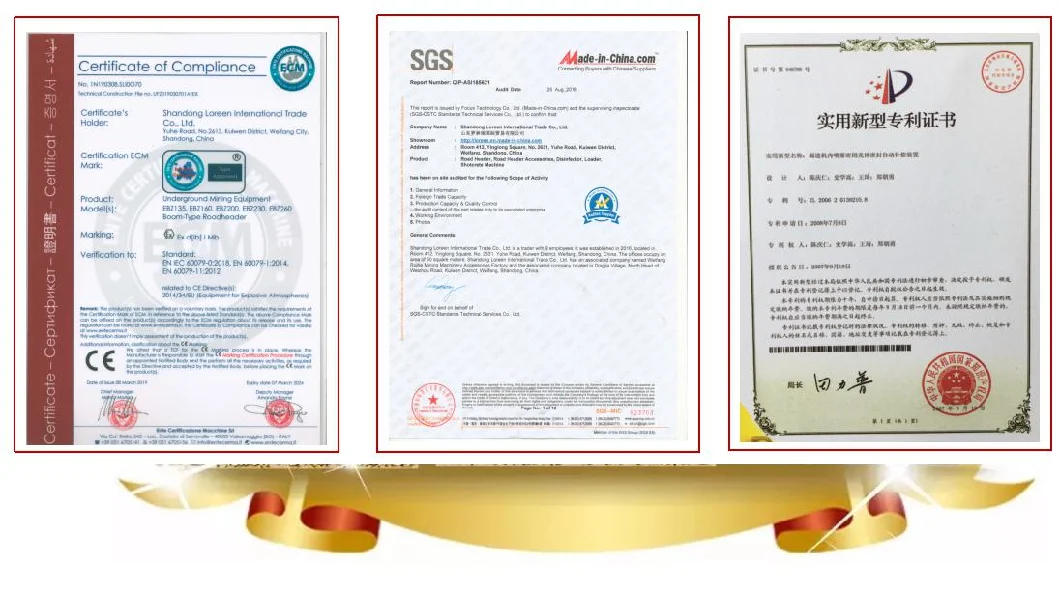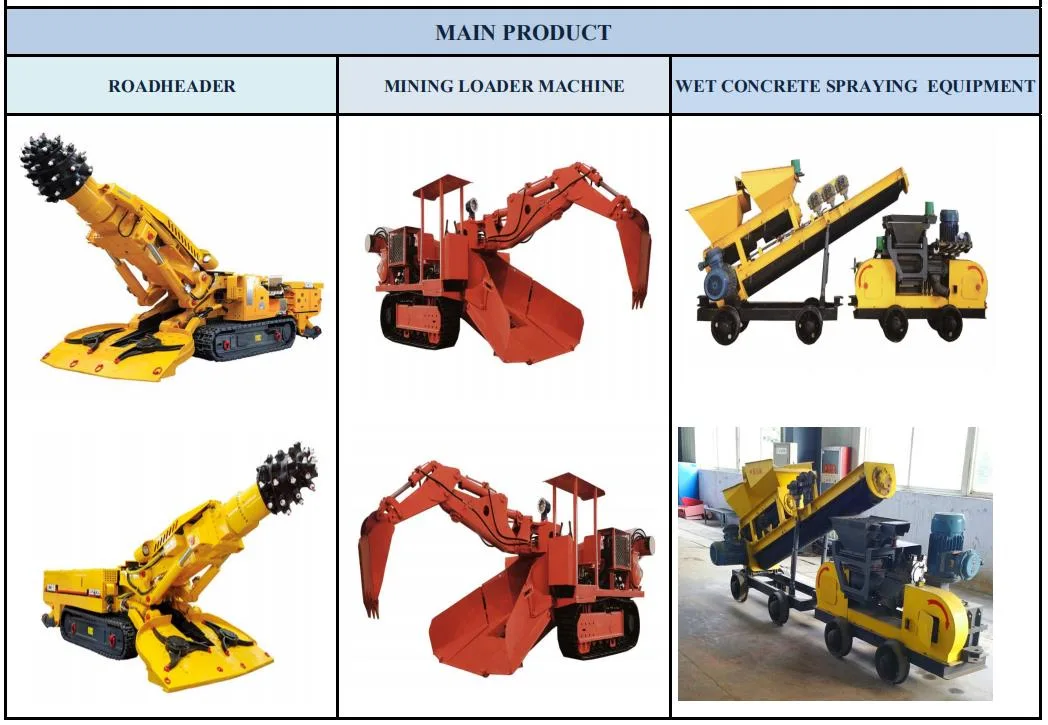 Why choose us
1. We could provide 7*24H service at the first time for technical support and original accessories supply.
2 .Attention to site before sale, quality in sale and training after sale.
3. Our company has advanced machining equipment, scientific technological process and advanced testing equipment.


FAQ
1:What kind terms of payment can be accepted?
For terms of payment,L/C,T/T,D/P(can be)could accepted.

2: What certificates are available in Machinery?
For the certificate, we have CE, ISO,SGA.

3: What about the delivery time?
7-30 days after receiving the deposit.

4: What about the warranty time?
12 months after shipment or 2000 working hours, whichever occuts first.

5. What about the Minimum Order Quantity?
The MOQ is 1 pcs.